RIYADH, Saudi Arabia, Jan. 12, 2023 /PRNewswire/ — Elevatus, the globally renowned recruitment and video interviewing software, today announced its local data hosting solution in the Kingdom of Saudi Arabia. This gives clients the ability to process and host their data locally while using the Elevatus platform. This launch ultimately meets industry needs for secure data residency and adheres to multiple regulations issued by National Data Management Office (NDMO) such as:
Saudi Arabia Personal Data Protection Law (PDPL)
Saudi Arabia Data Management and Personal Data Protection Standards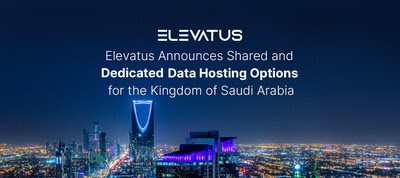 Now more than ever, there's a high demand by organizations to accelerate their cloud adoption. Businesses across the world are striving for innovation, efficiency, and scalability, all while minimizing technological risks.  Therefore, the ability for Elevatus' clients to now host their data locally in KSA will support their regional growth and offer a faster user experience – especially for the public, telecommunications, healthcare, and financial services sectors. The KSA data hosting will also be backed by Elevatus' world-class customer support team and technological resources.
Headquartered in Riyadh, Elevatus enables enterprises across the globe to streamline their core recruitment functions through cutting-edge technology and award-winning recruiting solutions. Allowing them to beat the talent hunt, recruit more talented workforces, secure a paperless recruitment process, and transform their existing tech stack into a unified recruiting powerhouse.
"Data hosting is becoming highly sought after by organizations across the globe. So Elevatus took the step to automate infrastructure management and launch regional and multi-cloud generally-available datacenters that adhere to the data protection laws and regulations as needed." said Yanal Kashou, Chief Data Scientist and Co-Founder of Elevatus. "Expanding our presence in the Kingdom is part of our ongoing commitment and investment to ensure our local clients can safely and securely engage with their stakeholders and improve their recruiting workflows. In fact, by meeting the growing demand in the KSA market, Elevatus is now seamlessly giving its clients the security and agility they need to revolutionize and innovate their industries."
In the past year, Elevatus has been fueling its business expansion, with the Kingdom at the forefront of its growth. Today, Elevatus continues to exceed client expectations where it currently supports over 150 leading companies across the globe and in 8 different industries. By making the journey to the cloud easy and seamless – Elevatus is committed to protecting the privacy of its clients by complying with local data security and regulations, as well as offering a safe environment for their cloud-based services.
Contact: Elevatus Inc.
contact@elevatus.io
Photo – https://mma.prnewswire.com/media/1982346/Elevatus_Inc.jpg