New analyzers deliver ease-of-use and reliability in measurements for all types of ventilators, flow meters, pressure gauges, anesthesia machines, and other devices
EVERETT, Washington, Jan. 10, 2018 /PRNewswire/ — Fluke Biomedical introduces the VT650 and VT900 Gas Flow Analyzers, which include one-channel, full-range air flow functionality that streamlines testing. The VT650 and VT900 offer the highest accuracy and reliability on the market for gas flow and respiratory medical equipment testing, including all types of ventilators, flow meters, pressure gauges, and anesthesia and other machines.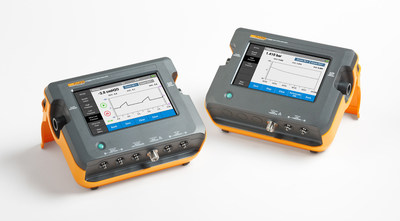 Photo – https://mma.prnewswire.com/media/625838/Fluke_Biotechnology_VT650_and_VT900.jpg
The VT650 features a full-range ±300 liter-per-minute (lpm) airflow channel with built-in oxygen, temperature, and humidity measurements. Designed and tested to world-renowned Molbloc-L calibration specifications, it ensures traceability to global regulatory standards and is great for basic needs ventilator and gas-flow testing.
The VT900 has all the ease-of-use and features of the VT650, plus an external TTL trigger input and special ultra-low flow and ultra-low-pressure ports for high accuracy in critical low volume and pressure testing such as for anesthesia machines and flow meters.
With the VT650 and VT900, biomedical technicians can:
Save time and avoid errors with customizable test profiles and data recording using on-board memory.
Avoid confusion and ensure accuracy with one-channel, full-range air flow functionality.
Reduce testing time with built-in line sensors that automatically test humidity, temperature, and oxygen while compensating for atmospheric pressure and environmental conditions.
Easily transport and store the lightweight (3.6pound/1.6 kilogram), all-in-one devices – with no extra modules for different tests.
Quickly access menu options, interpret results, and see measurements at a distance up to six feet (1.8 meters) with the large, easy-to-read seven-inch color touchscreen. Test results can be displayed as color graphs in real time and its global user interface provides simple operation.
Operate all day with eight hours of rechargeable battery life.
The analyzers' large onboard memory allows storage of customized test profiles and testing of multiple medical devices back-to-back without having to transfer data between tests —  data is simply recorded and stored, saving time. When testing is completed, saved data can be transferred via the USB port to a PC and test results uploaded to CMMS systems for easy documenting and reporting.
For more information on the Fluke Biomedical VT650 and VT900 Gas Flow Analyzers, visit: www.flukebiomedical.com/gasflow.
About Fluke Biomedical
Trusted for the measurements that matter.
Fluke Biomedical is the premier, global provider of test and measurement equipment and services to the healthcare industry. We serve biomedical engineers, quality-assurance technicians, medical physicists, oncologists and radiation-safety professionals and are continually expanding our range of solutions to a broader range of health and safety professionals. For more information, visit www.flukebiomedical.com.
For more information:
Fluke Biomedical
Barbara Hanson
(425) 446-6854
barbara1.hanson@flukebiomedical.com
Logo – https://mma.prnewswire.com/media/179432/fluke_biomedical_logo.jpg